LALUX GO!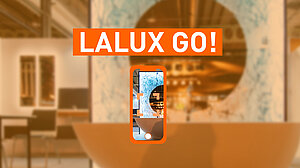 Are you a tenant, landlord or future homeowner? Do you have a new project for your home?
Then you should visit Home Expo from 5 to 8 October 2023 and take part in the exciting LALUX GO! game.
Do you like treasure hunts or quizzes?
You'll love LALUX GO! and its numerous prizes. Come and enjoy a playful experience and add some fun to your visit!
To be won: 7 main prizes worth around €1,000 each and numerous goodies.
Items covered by the easyPROTECT Home insurance policy are hidden on various stands. Find them, scan the associated QR-Code and try to win them.
Take your chances and have fun throughout your visit!
Download the game's mobile application, answer the questions, find the hidden objects to be insured by easyPROTECT Habitation and try to win them.